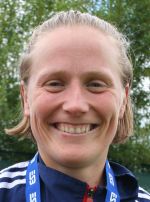 By Steve Tervet
Canterbury will open up a four-point gap at the top of the Investec Women's Hockey League Premier Division if they beat Reading on Saturday.
With second-placed Leicester in European action this weekend, Canterbury have the chance to increase the pressure on their closest rivals.
The sides played out a 1-1 draw on Sunday as Canterbury preserved their unbeaten record at the top.
Canterbury's Mel Clewlow (pictured) said: "We've got a massive game this weekend. Leicester are playing in Europe this weekend so if we can get a positive result, we could be four points ahead of them.
"We've never been in this position before but nobody is getting ahead of themselves. Canterbury is a nice place to be right now. We've taken four points off Leicester this season and I can't remember the last time that happened."
Nicky Triggs is the only injury doubt ahead of the Reading game, having tweaked her hamstring against Leicester.
Push-back at Polo Farm is 11.45am, with Canterbury's men hosting their Reading counterparts straight after.