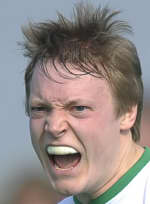 by Alex Hoad
Canterbury skipper Michael Farrer says his side want to 'pick up where we left off' before the mid-season break in National Premier Division.
The newly-promoted city club have stunned the league with a superb start to sit second with 11 of their 18 games played but Farrer warned: "We're going to be a target now.
"Nobody is going to underestimate us from now on, they're all going to want to beat us."
On Sunday Canterbury visit Loughborough Students, who sit six points behind them in fourth, the final play-off place.
Farrer said: "We've had a successful indoor season and confidence is high, everyone is in good nick and we want to pick up where we left off.
"We're aiming for a top-four place and we've put ourselves in a position to do that.
"If we can get three points against Loughborough then it will be the perfect start to the second half of the season."
Canterbury Ladies travel to Bowdown Hightown on Saturday morning looking to stay top of the Premier Division table.
They sit one point ahead of Leicester, with third-placed Reading a further three points behind.