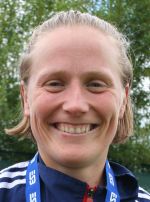 Canterbury Hockey Club ladies go into Saturday's top-of-the-table clash against Leicester with Mel Clewlow claiming the Polo Farm team are still not receiving the recognition they deserve.
Canterbury have a one-point lead over Leicester at the top of the Investec Women's Premier Division after last Saturday's 8-1 home thrashing of sixth-placed Sutton Coldfield, a result which Clewlow claimed should make people take notice.
The former GB international (pictured) added: "I don't think we are being given the respect we deserve for what we have achieved so far this season and that includes from our own governing body, England Hockey.
"We must be doing something right because we are top of the table and still unbeaten after 10 matches but all you ever seem to hear about is what teams like Leicester and Reading are doing.
"It makes you think, 'What do we need to do to get some recognition and to start getting some of our younger players into England under-21 squads or wherever?' "
Clewlow knows Canterbury need to back up her claims by at least avoiding defeat at Leicester and if they do, it will mean Canterbury remain top of the table going into the two-month winter break.