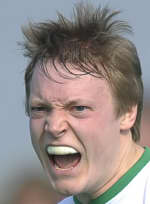 Canterbury suffered a shock defeat at struggling Southgate in National Premier Division on Sunday to put an end to their six-match winning run.
Dan Shingles put the hosts ahead on seven minutes and Simeon Bird made it 2-0 midway through the second half and although skipper Michael Farrer (pictured) halved the deficit five minutes later, the city club could not find a response.
Canterbury remain three points behind leaders Beeston who dropped their first points of the season when they lost 3-2 at Brooklands on Sunday.
They remain five clear of third-placed Cannock, who suffered a 5-3 home defeat to East Grinstead, who are the visitors to Polo Farm on Saturday.
Canterbury Ladies saw their lead at the top of the Premier Division cut to a point after being held to a 1-1 draw at Olton & West Warwicks on Saturday.
The city club's unbeaten run in the league continued with the draw but champions Leicester moved into second after a 4-1 win over the University of Birmingham.
Mel Clewlow put Canterbury ahead just before half-time at Olton but the hosts ensured a share of the points with a goal from Kerry Thompson-Moore on 49 minutes.
Canterbury face third-placed Surbiton, level on points with Leicester, at Polo Farm on Sunday.