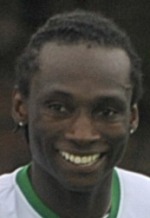 by Alex Hoad
Kwan Browne says Canterbury's men must avoid the second-half slump which has hampered their last two national indoor campaigns when they return to action at Burton on Saturday.
In 2010 and 2011, the city club produced accomplished performances in the opening weekend of the Maxifuel Super Sixes competition, winning three of their opening four games.
However, both times they went on to lose three of the four games on the second weekend, missing out on a place at Finals Day.
This time, Canterbury took just seven points from their first four games at St George's Park, recovering from an 11-2 drubbing by East Grinstead to beat Loughborough Students 7-5 and Bowdon 2-1 before being held to a 5-5 draw by Reading.
They must face leaders Beeston in the next stage, as well as struggling Surbiton and Old Loughtonians, who have just one win combined from their eight games so far.
The top four after the last four fixtures this weekend will reach the Finals at Wembley Arena on January 27.
Canterbury sit fifth but just a point behind third-placed Reading and player-coach Browne (pictured) said: "Hopefully we can do enough to get through.
"It will still be tough because teams bring all their missing players back for the second weekend, but we have given ourselves a chance.
"We have only got one more of the big-guns to play in Beeston and if we can win the other three games, then we will go through, it's as simple as that."
Canterbury Ladies sit third in the table, three points clear of fifth-placed Reading, going into the second round of fixtures at Bromsgrove School.
They face winless University of Birmingham on Saturday but also take on fourth-placed Sutton Coldfield, second-placed Bowdon Hightown and leaders Leicester who have won all four games.
Skipper Nikki Triggs said: "We are hoping to have a few senior players back and go in hopeful that we can build on the good work we did on the opening weekend.
"Our thoughts have turned from trying to stay up to qualifying for the finals – hopefully we can keep the momentum going and do that."