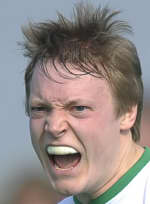 Canterbury Hockey Club skipper Michael Farrer says Saturday's visit of third-placed Cannock is a must-win game after their six-game winning streak in the National Premier Division was unceremoniously ended at struggling Southgate.
The city club missed the chance to draw level with leaders Beeston – who lost at Brooklands – but remain five points ahead of Cannock – who also lost – as they slipped to a 2-1 defeat in London on Sunday.
Farrer (pictured) admitted: "It is disappointing to lose to a team that was near the bottom of the table. We were lacklustre in the first half and they sat back and then caught us twice on the break.
"We put them under a lot of pressure and we had about 80% of the possession but we couldn't find the goal. It was a bit like Celtic v Barcelona.
"If the game had gone on another 10 minutes then we would probably have gone on and won, with the amount of pressure we were putting them under."
Cannock visit Polo Farm at 1pm on Saturday and Farrer said: "It's a big game.
"If we'd won last weekend then I don't think we'd have been too disappointed with a draw against Cannock but as it is, it's a game we have
to go and win to gain momentum."