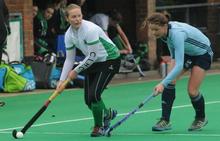 by Alex Hoad
Canterbury Ladies defender Mel Clewlow says excitement is building around the club as they could seal top-spot in the National Premier Division this weekend.
Both men's and women's sides face must-win games on Saturday afternoon as they seek to finish successful seasons on a high, with senior players from both teams urging local fans and youngsters to take advantage of the free elite competition on offer.
The Ladies sit top of the Premier Division, a point ahead of Leicester with two games remaining and know that if Leicester lose at the University of Birmingham earlier on Saturday, then they can secure a historic title and a place in Europe next season with a win over strugglers Olton & West Warwicks at 5pm.
Clewlow (pictured) said: "We are looking forward to it. We can't realistically see Leicester dropping any points, so the onus is on us to win both games.
"It puts a little pressure on us but I wouldn't say there was tension but more the excitement level is brewing in the team."
Clewlow added: "Birmingham could chuck a shock result out there and it could mean we could win the league at home with a win, which would be amazing but we'll have to wait and see.
"We can't look too far beyond Olton. At the least we want to go in on Saturday night top of the league going into the last game."
Clewlow hailed the next generation of city club stars who were instrumental in a 5-1 win at the University of Birmingham last weekend.
Clewlow said: "Second is the best we've ever done, so to be sat top with two games to go shows we've done well this season.
"Our younger players are now our game-changers. We have been building foundations for the past two or three seasons and now we are reaping the rewards."
Do you think Canterbury can seal the title and a place in Europe? Have your say below.