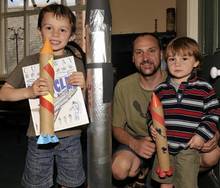 The Museum of Canterbury provided one small step for man and one giant leap for history lovers as they helped celebrate the anniversary of Neil Armstrong becoming the first person to walk on the moon.
Around 200 people came along for the fun day at the museum in Stour Street and they took part in a range of moon-related activities.
The historic moment, on July 21, 1969, was watched by millions across the UK, and was the culmination of the $24 billion Apollo programme.
At the exhibition, visitors of all ages chatted to astronomers, made their own craters, built rockets and listened to stories and poems.
There was also the chance to travel back to the 1960s, with a display of objects, toys, fashion accessories, music covers and even newspapers and cartoons capturing the first moon landing.
The star attraction was, however, the astrodome, which gave an out-of-this-world, 3D tour of the night sky and the solar system.