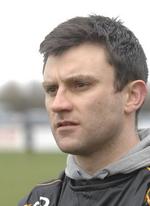 by Alex Hoad
Canterbury coach Andy Pratt has targeted improved consistency from his side as they bid to return to winning ways against Dings Crusaders at Merton Lane on Saturday.
The city club are looking to extend their four point lead over the Bristol side in National 2 South and cement eighth-place, but come into the game on the back of a disappointing 31-18 defeat at Chinnor.
Pratt (pictured) said: "We should have had the weekend off, it was a reaarranged game, and we had to make a lot of changes, we had a few injuries but a load of unavailability - people have jobs and other commitments.
"You just can't get away with making so many changes."
For once Canterbury misfired in the final third but Pratt said: "It was unusual for us that we couldn't finish off the moves with tries, we are fourth highest try-scorers in the league, and it came back to bite us.
"We really should have won the game, we turned around at half-time two points down when we should have been at least 10 points ahead."
Pratt admitted to having a 'selection headache' ahead of the Dings game, adding: "Last week we only had five players in the same position as they were in the previous match. This week it's from the ridiculous to the sublime. We have got a lot of availability. It's a headache, but a good one.
"Teams like Dings, Launceston, Chinnor and Clifton are our peer group in the middle of the table and these are the games we really want to win. We'll be going all-out to get a result.
"We have been a bit inconsistent since Christmas, but hopefully we can put it together again on Saturday."