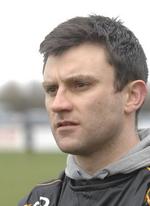 by Alex Hoad
Head coach Andy Pratt wants Canterbury RFC to end their Cornish hoodoo and record a statement win at Launceston on Saturday to boost their top-half chances in National 2 South.
Despite scoring 199 points in seven away games so far this season, the city club have lost six of them and Pratt (pictured) admitted: "We are due an away win."
He added: "We won down at Lydney and should have won at Clifton. We've had a couple of disappointing losses too but hopefully we can get up to the mark on Saturday."
The squad will gather for a meal at Merton Lane on Friday evening before a six-hour coach trip west, where they will stay overnight, before facing a side skippered by former Canterbury full-back Kieron Lewitt.
Pratt admitted: "We have not had a lot of change out of trips to Cornwall in the past. It's not just the journey that's against us but you have the passionate Cornish crowd and a good opponent."
Canterbury could go level with seventh-placed Launceston with a big win but Pratt said: "We are not safe yet. We'll have to wait until the new year before we really know what we are looking at but if we are in the top half at Christmas, I will be pleased."
He added: "We have a tough run again from January and need to make the most of our opportunities before then."
Saturday completes the first half of Canterbury's schedule and Pratt said: "That means no more surprises from now on.
"No more scrabbling round to get footage of sides we've not seen before. We know everyone now, we have our own footage and our own experiences to go on. We have also got more home games than away in the second half."
Second row Tom Buns, signed from Richmond this week, could feature while Aiden Moss returns to the squad.
Do you think Canterbury can secure their second road win of the season in Cornwall on Saturday? Have your say below.