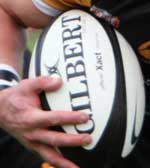 A second-half fightback by Canterbury fell short as a late try condemnded them to a 34-27 defeat at Launceston in National 2 South on Saturday.
The city club left themselves with plenty of work to do when the hosts drove over the line three minutes into the second half to make it 27-10.
However, they rallied back and five minutes later, Pete Kelly scored his ninth try of the season.
Scott Browne converted and added a penalty after Launceston conceded one of a host of penalties, to bring the visitors back within a converted score.
No.8 Wim Baars then broke forward and a long pass was swung out to Jim Green who marked his return from suspension with a try, which Browne converted to level the scores and put Canterbury in sight of victory.
However Ricky Mackintosh's try-saving tackle was adjudged to have been high and he received a yellow card, with Launceston taking advantage to secure a converted try and the victory.
An early Launceston lead had been cancelled out by a Ricky Mackintosh try but a converted try and a penalty made it 15-5 and when Baars was sin-binned, the hosts extended their lead with another converted try.
Mike Melford crossed out wide to reduce the deficit to 22-10 at the break.