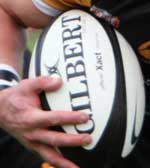 Canterbury failed to build on their superb win over title-chasing Hartpury College as they slumped to a 31-18 defeat at Chinnor on Saturday.
The city club created enough chances to have been well ahead before the break and close the gap on their National 2 South rivals but they wasted their chances and failed to keep their hosts out.
Canterbury controlled possession and territory for much of the opening 40 minutes but despite a Scott Browne penalty, they trailed 10-3 after a penalty and converted try.
Browne, Neil Wakefield and Martyn Beaumont all went close to replying before Beaumont pulled back an unconverted try before the break.
Trailing 10-8, the visitors lost the ball in a tackle six minutes into the second half allowing Chinnor to race through for a converted try.
Dave Marshall reduced the deficit with a try, converted by Browne, to make it 17-15, however a controversial third try for the hosts put the game beyond Canterbury's reach.
Browne's penalty reduced the arrears but an intercepted pass allowed the hosts to add another converted score.
The city club remain eighth but are now 13 points adrift of sixth-placed Chinnor.