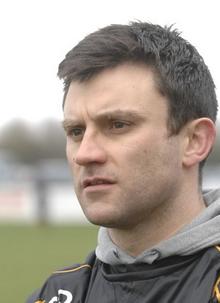 By Alex Hoad
Canterbury Rugby Club head coach Andy Pratt says turning Merton Lane into a fortress in the second half of the season is key to consolidating their National 2 South status.
The 43-10 win at Barking before Christmas ensured the newly-promoted city club went into the new year in eighth place with 35 points from 15 games and as close to the top five as they are to the bottom four.
Pratt (pictured) admitted to being satisfied with the opening half of the campaign but warned there was plenty of hard work to come.
Canterbury have won four of six games at Merton Lane and eight of their remaining 13 fixtures this season – including three of their last four – will be on home territory.
Lydney are the visitors on Saturday (3pm start) and Pratt said: "It's good to be heading back home. Our home form has been good this season and it's going to be crucial in ultimately deciding where we finish."
Canterbury won 35-7 in Gloucestershire in September but, after an influx of new talent, Lydney won their last three games before the Christmas break and are climbing away from the bottom of the table.
Pratt said: "There's no doubt we have got a couple of tough games coming up, with Lydney the first of them."
After Saturday's game, Canterbury face all of the top six in their following seven games, starting with Worthing at home.
Pratt said: "It is a tough run but to a certain extent, if you can beat the teams below you, as we have done, then when you face the teams at the top, the pressure is off a little bit. We are halfway through the season but have a lot more home games in the second half than we do away. We need to make that count."