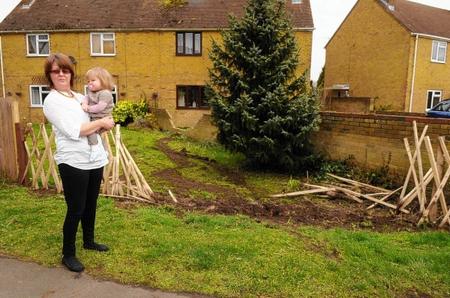 by Lauren Fruen
A car smashed through a garden fence and came just yards away from hitting a family home.
Police were called to Bridge Cottages, Selling, at around midnight after the BMW veered off the road and collided with a brick wall.
It is the second time in a year that the home of grandma Ann Stevens has suffered such a smash.
Now the 54-year-old says she will no longer let her two granddaughters play in the garden of her home of 27 years.
She said: "I heard a crash and a bang. My 15-month-old granddaughter Annie was staying here for the night.
"It is frightening. The last time this happened it was 6pm and some of my family had only just left my home. We have just been lucky that no one was injured."
The car ripped down a fence, knocked down a wall, tore up the garden and landed facing away from the home after flipping around.
The driver ran away before police arrived, leaving his smashed-up car behind.
Mrs Stevens added: "We need to introduce speed bumps along this road to get people to slow down.
"They take the bend so wide and then they lose control."