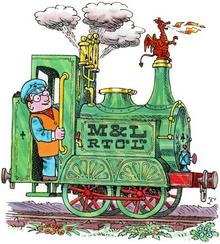 Ivor the Engine has been brought back to life in a new mobile phone game.
The children's TV character, co-created by Blean resident Peter Firmin and his Smallfilms colleague Oliver Postgate, features in a new game available to download on iTunes.
Ivor and the Dragon has been developed by Dreadnought Design and features the original character artwork with new high definition graphics.
A series of interactive storybooks based on original Ivor the Engine stories are also under development and will be released under the newly created Smallworlds brand later this year.
Oliver Postgate's son Daniel said: "My father's wish was for all the Smallfilms materials to eventually be made available online for everyone to enjoy again, so when we were approached by Dreadnought Design last year, the timing seemed to be perfect for development to begin.
"Peter Firmin and I are very excited about the launch of this game and are delighted Dreadnought Design have managed to keep the authenticity of the series whilst managing to bring it back for today's market."
Ivor and the Dragon is available to download on iTunes for just £2.99.