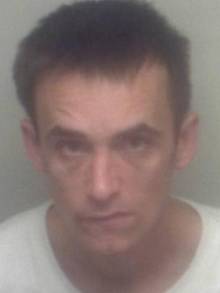 A claw hammer burglar has been jailed for targeting the home of a Faversham man because he knew he was disabled.
Billy Harris, of St Nicholas Road, broke into 61-year-old Ronald Chamberlain's house armed with the weapon.
The 32-year-old, pictured right, went into Mr Chamberlain's bedroom - before fleeing and dropping the hammer when his victim got out of bed.
Now Harris has been locked up for seven years at Maidstone Crown Court after pleading guilty to aggravated burglary.
Recorder Simon Taylor QC told Harris: "This was a very serious offence indeed. He was disabled and you knew that. He had shown you kindness and you betrayed his trust and property in this way."
The court heard Harris had forced his way into the property in St Nicholas Road by damaging a lock on September 29 last year.
DC Iain Joyce, from Kent Police, said: "Evidence in the case very much indicates that Harris was well aware of the victim's vulnerabilities and I believe this is why the property was targeted for this offence.
"Harris is clearly a dangerous offender and despite no property being stolen during the break, it is clear Harris intended to steal and use the hammer if needs be.
"It's therefore good news that he has been locked up and will be off the streets where he will be unable to continue committing crime.
"Kent Police will relentlessly pursue offenders for burglary and linked criminality and will continue to do everything in our power to bring those responsible to justice."