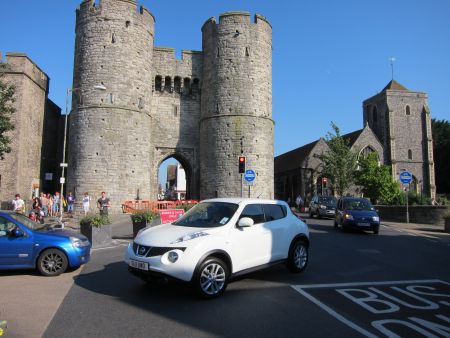 The city council has given the strongest indication yet that the controversial Westgate Towers traffic scheme in Canterbury is here to stay.
It follows the publication today of the results of a public consultation which it says shows 52% are in favour of making it permanent, albeit with modifications.
Transportation manager Richard Moore said he had been "reassured" by the comments which, given the public outcry, he thought would have shown far more people against it.
Council executive member for transport Cllr Peter Vickery-Jones added: "I think we can draw some comfort from the cold statistics that there is not overwhelming opposition to it."
But the figures also show most people thought the trial had failed in five of six of its key objectives, including reducing the impact of traffic and improving air quality in streets around the towers and trade in St Dunstan's.
The eight-week consultation prompted 2,688 responses - by far the highest for any survey by the city council.
The council says it is still awaiting the results of traffic counts at blackspots around the city and air pollution tests.
Council leader John Gilbey said: "We have to deal with the increase in traffic which is only likely to get worse with the increase in housing. We would like to get it to work."
He said the full results of all the data would be put to council committees in March and the executive would then make a recommendation to the county council which is a partner in the project.
But he also said the trial would not come to an abrupt end in March at the conclusion of the 12 months scheme.
Full the full story and reaction see Thursday's Kentish Gazette.