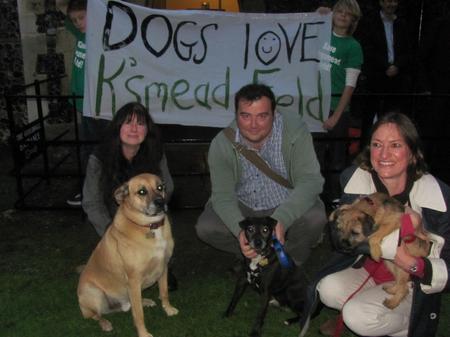 by Alex Claridge
Canterbury City Council has formally agreed to seize control of the Kingsmead playing fields and sell it to a housing developer.
Despite massive opposition in the St Stephen's and Northtgate wards, members of the ruling Conservative executive argue that building on the field is a cornerstone of rejuvenating the whole area.
The five-acre site opposite the Kingsmead Leisure Centre is considered surplus to requirements for recreation and is believed to be worth more than £5 million.
The council has already decided to sell the land and says the field forms part of a 35-acre redevelopment area in Kingsmead, which includes the old Serco depot and the former coach park.
Cllr Peter Lee, the executive member for finance, said: "I don't think it's any secret that we are looking at this particular piece of land.
"In totality this is a 35-acre site and there are alternative open spaces in the area.
"We have been accused of using this to raise some money, but that is a luxury we do not have. We are going to raise some money to improve the area and the facilities in the long-term interest."
Chief executive Colin Carmichael added: "This field was originally designated for a new school, but when that didn't happen the alternative we should consider was residential development.
"The executive has already decided to sell the land and to appropriate the site is a logical follow-up."
A group of dog walkers and their pets held a mini-protest outside the council chamber in the Guildhall before Thursday night's meeting.
Alan Thomas, of Market Way, Canterbury, was among the residents who turned up to oppose the decision to appropriate the land.
He said: "The administration has completely mishandled matters related to the field and has completely misjudged the opposition to its disposal.
"It has ignored the wishes of residents, it has lost the trust and confidence of the electorate and has failed to demonstrate the degree of honesty and integrity that residents have a right to expect."
The council says it will now formally complete the paperwork relating to the field and record the appropriation.