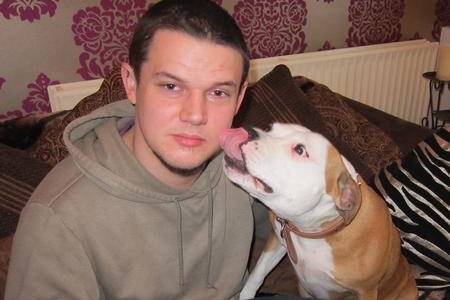 by Gerry Warren
A dad who strangled his "ferocious" Staffordshire bull terrier as it attacked him says he is not the heartless thug he has been made out to be.
Matt Bolton, 25, was this week cleared by Canterbury magistrates of animal cruelty.
But despite being acquitted by the court, which concluded his account of the incident had been "entirely credible", he has faced a barrage of criticism.
He had been charged by the RSPCA with inhumanely killing the dog, called Nellie, at his home in Alfred Close, Canterbury, last May, where he was living with his wife Donna, 30, and four daughters.
Now living in Mortimer Street, Herne Bay, the dad-of-four today hit back at online criticism - branding many of the comments posted by readers as "ignorant and inaccurate".
He also fears Staffordshire bull terriers are being unfairly typecast as dangerous when it is often irresponsible owners who are at fault.
A carer for his wife, who suffers with bi-polar disorder, he says the couple are dog lovers and, in particular, passionate and knowledgeable about the Staffie breed.
He said: "We took Nellie in from a neighbour because she wasn't getting on with another dog he had and we thought she might fit in better with ours.
"Everything was okay for the first few weeks but then she started to fight with
"i was fearful for the safety of my children and could not afford to let her go because she was going for my throat" – matt bolton
our other Staffie Princess, who was getting hurt badly.
"She was becoming increasingly aggressive and we had to keep her in a cage in the house, which was far from ideal for her.
"I am angry that all the agencies I called, including the RSPCA, police, PDSA and the city council, could not offer any help or support.
"In fact, the irony is that the RSPCA told me that I could be in trouble for reporting I owned a dangerous dog.
"On the day of the incident, she had broken free and was attacking Princess again and I had to try and break them up.
"She then turned on me and I was literally fighting for my life. I was fearful for the safety of my children and could not afford to let her go because she was going for my throat.
"I was put in an extremely difficult position and really had no choice - it was a horrible situation.
"Donna and I both love dogs and the Staffies we have had have all been lovely, gentle dogs and great with our children.
"What happened was traumatic and upsetting. Although I put her body in a wheelie bin, it was never my intention for her to go out with the rubbish. I didn't want vermin getting at her and had planned to take her somewhere like a vets to be disposed of."