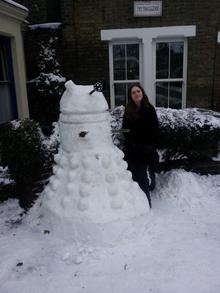 There was no exterminating the chilling effect this Dalek snowman had in Faversham today.
Dr Who's arch nemesis made an icy return on Sunday after heavy snowfall hit the town.
And while the Time Lord will eventually defeat the Dalek, with the help of some warm weather, for now it is standing guard as visitors enter the town.
The Dalek snowman was built on the corner of Forbes Road during the cold snap by Faversham father Mark Holmes and his 13-year-old daughter Daisy.
Dad Mark said: "Daisy absolutely loves Dr Who. She calls herself a Whovian and it was her idea to build the Dalek.
"We had help from neighbouring kids and it took a couple of hours to make it. We are really pleased with it.
"There were cars stopping last night to take a picture of it and people have said they really like the idea."
And it is not the first time that the father and daughter duo have created a snow sensation. Last year they built a Statue of Liberty inspired snowwoman to welcome visitors to the town.
This summer Mark also helped to brighten up Faversham with his Olympic themed decorations on the front of his home in Forbes Road.