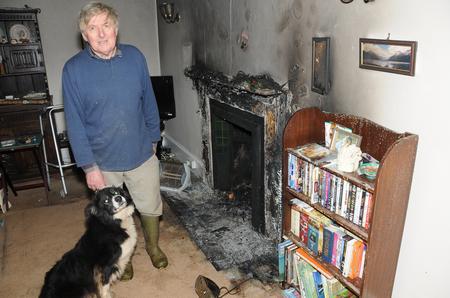 Brian Munnery inspects the damage with rescued dog Jim
by Jamie Bullen
A pet dog has been rescued by firefighters after a fierce blaze threatened to burn down a cottage.
Brian and Anne Munnery, of Pett Hill, Bridge, near Canterbury, phoned 999 at 8pm yesterday after Mr Munnery tried to light a fire without knowing he was using a gas bottle with a perished pipe.
The blaze broke out in his chimney and was worsened when the 73-year-old kicked the leaking bottle into the fire in an effort to contain the flames.
Canterbury fire crews wore breathing masks to tackle the blaze and rescue Jim, the couple's six-year-old collie, from the back office.
Brian paid tribute to his wife Anne, 75, describing her as a "saviour" for alerting emergency services despite suffering from Parkinson's disease for the past 12 years.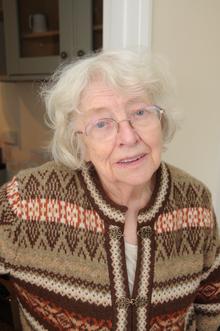 He said: "She came through from the kitchen and I said 'Get out of the house because we have a major fire'.
"It was like she came to life again; she absolutely was the saviour."
Mr Munnery said his misguided actions in trying to douse the flames led to the arrival of fire crews.
He added: "I thought if I kicked the gas canister onto the grate or a hard surface the flames would go up the chimney but it was a bit more fierce than that.
"The fire is just one of those things. I'm always injuring myself because I think I can deal with it.
"I got my eyebrows and my hair singed. My wife is the sensible one.
"Another 15 minutes and the house would have burned down. The fire crews were absolutely brilliant."
Watch manager Sheridan Hudson-Peacock said: "There was no serious damage to the property. Just some furniture was destroyed and the room was smoke-logged. The good news is we rescued a dog.
"The couple said they have two dogs, we went in and found one and the other had managed to get himself outside. We managed to find him later.
"Unfortunately he [Mr Munnery] was trying to light an open fire with a gas bottle but the pipe on the bottle had perished. He kicked the gas bottle and it could have been nasty.
"He kept returning inside the house four or five times, but when there is a fire you get out, stay out and call us."
Crews left the home at about 9.30pm.