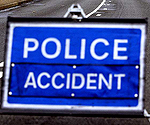 An elderly driver has hit a number of vehicles outside Morrisons in Herne Bay, injuring another motorist.
Police were called to Beach Street at 2pm today, where the driver of a Skoda appeared to ram a series of parked cars.
A man was treated by ambulance crews after hitting his head on his windscreen in the collision.
He was sitting in his car at the time.
Three cars have been recovered from the incident. The road was partially blocked but is now clear.