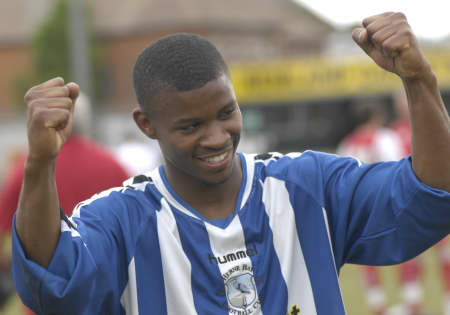 Hotshot striker Byron Walker is back at Herne Bay just two weeks after signing for Stalybridge Celtic.
The 26-year-old fans' favourite – whose 18 goals helped fire Bay to the Kent League title last year – has returned after making just two appearances for the Blue Square Conference North side.
Herne Bay boss Simon Halsey has told of his delight to have Walker back and says he will go straight into the squad for tomorrow's home clash against Folkestone Invicta.
He said: "I'm not sure what the reasons are for him leaving, but we're just glad he's back with us. I've been in regular contact with him and working on it for a while.
"He scores lots of goals, has bags of pace and gives us that different option.
"Other clubs have told me when they see his name on the team sheet there's that fear factor. He brings an atmosphere to the club and is a hero to a lot of the fans.
"I've already had messages from some of them saying how pleased they are to see him back."
Walker's performances last year attracted attention from professional clubs, earning him trials with Oldham Athletic and German side Wiesbaden.
But Halsey says the fleet-footed forward's attention will now be on scoring goals for Herne Bay.
He said: "I got hold of him three years ago at a time he wasn't looking to play for anyone and took him to Herne Bay.
"He's been surrounded by good players who love him and it's brought the best out of the talent he already had. There's never a time when he's not smiling, except perhaps when I've dragged him off late on."
Walker's return will provide competition for fellow Bay strikers Danny Williams, Tunji Agbaje and Jamie Turner, who has hit a recent run of scoring form.
Halsey said: "Byron coming back will push them all on to score goals and fight for the number nine shirt. I'm really looking forward to it."
Tomorrow's match will kick-off at 1pm because of ongoing floodlight problems.