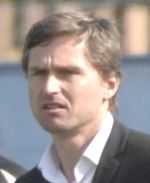 by Alex Hoad
Faversham need to improve upon their home form if they are to make history in Ryman League, Division 1 South this season.
Town boss Ray Turner has targeted an upturn in fortunes at the Shepherd Neame Stadium, where the Lilywhites have recorded just one win in seven league games this season and drawn blanks the last two times out.
Town will follow a dismal 2-0 loss to Chipstead with the differing challenges set by the visits of basement boys Walton Casuals on Saturday and promotion-chasing Leatherhead on Tuesday night.
Turner said: "We have to improve on our home form. We have two home games coming up and we will have a shake-up and try some things.
"We have had a good start to the season but it is definitely something I have to think about.
"A lot of teams have better records away from home than at home – maybe it's because teams come at them more – but I'll have a look at what we can do this week."
He added: "It's a crazy league this year, you just can't predict some of the results, but the league table is slowly starting to take shape.
"We are still very much in there and you always want to push on as much as you can, but we have got a small squad.
"We're taking the club to places it's never been before, and we have to try not to let it slip too much. If I could get us anywhere near those play-off places I think that would be a fantastic achievement."
Forward Adrian Stone will have his Achilles assessed at training on Thursday while under-18s forward Kieran Oliver will join the squad.
How do you think Town can improve their fortunes at home? Have your say below.