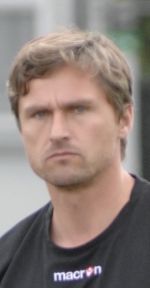 by Alex Hoad
Ray Turner believes his Faversham Town team are punching above their weight in the Ryman League, Division 1 South promotion race and fears the club could have reached a 'glass ceiling'.
The Lilywhites lost 1-0 at home to Folkestone Invicta on Saturday after four wins and 13 points from their previous five games, but remain just a point outside the play-offs ahead of Saturday's trip to lower-half Horsham.
Turner (pictured) said: "Dulwich, Maidstone and Leatherhead will pretty much stay in the top-three now and Hythe are investing plenty to get up there too but we're just not in a position to do the same."
Turner added: "It is not a level playing field and everyone knows it.
"We are pretty much at our limit at the moment. It feels like this could be our peak. All we can do is to try and maintain it.
"The top sides can bring in pretty much anyone they want but while we've had two big derby games recently and had a combined attendance of 416, Hythe played two home games and had more than 1,800.
"Now we are one point behind them, with a game in hand. If you compare the resources, then we are doing pretty well.
"I don't know what we can do, I'm not even sure there is anything. We are a small town club. I'm not sure we can squeeze much more out of it."
Do you think Faversham have gone as far as they can in Ryman League Division 1 South? Have your say below.