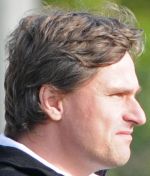 by Alex Hoad
Ray Turner says Faversham will have to increasingly rely on youngsters this season after having to release a senior forward to cut costs.
Adrian Stone joined Hastings after Turner was forced to tighten his purse strings, with the Town boss expected to put his faith in under-18s striker Kieran Oliver as they seek to secure a play-off place in Ryman League, Division 1 South.
Turner said: "Stoney has made a significant contribution to the club. He has been a joy to work with and professional throughout his time here.
"He scored 16 goals in a side that was in transition last season and turned down several approaches from other clubs.
"Unfortunately, due to budget restrictions, I have had to make a tough decision, one which no manager wants to do and that is to release a player during the season."
Turner backed the club's young guns to soften the blow of the experienced former Maidstone man's departure.
He added: "We have got a couple of young players who are on the fringes of the first-team now. Kieran Oliver has come in and scored a couple of goals.
"I am proud of the squad I've assembled. I wanted continuity this season and wanted to build something here and we're doing that. Darren Marsden is the only new face we've brought in."
However, he warned: "When you are including young players, you have to be patient.
"It is an exciting time but they are unpredictable. They are going to shine one week but might not in the next game, whereas with experienced players they are more consistent and you are guaranteed a level of performance."
Do you think Faversham's youngsters can help them finish the season strongly? Have your say below.