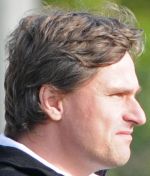 By Kevin Redsull
Faversham manager Ray Turner is hoping that his side see a lot more action in December than they have done this month.
Last Saturday's postponement at Herne Bay meant that the Lilywhites played just three matches in November, with the inevitable knock-on effect that they are now facing a hectic schedule of eight games in December.
Turner (pictured) said: "It's not an ideal situation because it means we have fallen a little bit behind in our league programme again.
"Also, when you have a gap like we've had, you are never quite sure what form you are in and what sort of condition the players are in."
Turner, however, can draw encouragement from the fact that, despite their recent inactivity, Faversham are still in touch with the play-off positions and now have the chance to bolster their challenge with three home matches in a row, starting with Chipstead's visit on Saturday.
They then face Walton Casuals (December 8) and Leatherhead (December 11) at home, with all three sides in the bottom half of the table.
Turner added: "We need to be really positive in these next three matches and make the most of our opportunity to push on. The league table is taking a bit of shape now with the top four, Dulwich, Maidstone, Hythe and Crawley Down all starting to show some consistency."
Apart from reserve keeper Dan Ellis, sidelined by a back injury, Turner has a full squad to pick from.