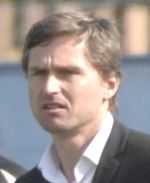 by Kevin Redsull
Faversham Town have a day off this Saturday but manager Ray Turner says his players would much rather be in action.
The reason is that Turner and Co would like the chance to get Saturday's 4-0 home defeat by Maidstone out of their system as quickly as possible but the Lilywhites' next match isn't until a week on Saturday when they meet Merstham United in a league game.
Turner said: "We trained on Tuesday night and the feeling among the players was that they would prefer to be playing on Saturday because they know they under-performed against Maidstone.
"We've had a discussion about it but this isn't the time to be really upset with the players because they've done well recently. I just think the game and the big crowd got to them."
A crowd of 615 packed into Salters Lane, including a substantial contingent of Stones' supporters, who saw the Ryman League, Division 1 South leaders end Faversham's eight-match unbeaten run in style.
Turner admitted: "Although I think we were too predictable and could have done more to prevent their goals, we were beaten by the better team. We've just got to take it on the chin and move on.
"But it's a bit of strange period really because, after having eight matches in October, we have only got four this month and only time will tell whether it's good to have this two-week break."
On a more positive note, Turner is delighted at the achievement of the club's under-18 side in reaching the second round of the FA Youth Cup, where they will travel to meet Colchester United on a date yet to be arranged.
Do you think Faversham can bounce back next time out? Have your say below.