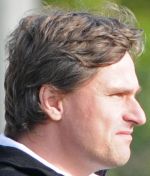 by Kevin Redsull
Faversham manager Ray Turner has described Saturday's FA Cup first qualifying round tie with Margate at Salters Lane as a massive game for the club.
Turner, pictured, whose side lost 4-1 at home to Walton & Hersham last weekend, insisted: "There will be no better way for my players to wipe away the memory of last weekend than by performing well against Margate.
"Margate are going well and, as they don't get a lot of Kent derbies nowadays, I'm hoping they will bring a lot of supporters with them."
Chris Kinnear's side are lying third in the Ryman League, Premier Division after last Saturday's excellent 2-0 win at Bognor Regis and Turner added: "Chris and (assistant manager) Jake Leberl have put together a good squad and on paper we don't stand much of a chance but I have a lot of belief in this group of players.
"They've got a lot of experience.I'm sure they will be motivated by the occasion and the crowd and you never know in the Cup."
Turner will be hoping that Luke Harvey, who scored Faversham's late goal against Walton & Hersham, will be recover in time from a back injury to face the Gate.
Apart from Harvey, Turner hopes to have a full squad available for a tie in which the winners will collect £3,000 prize money.
Do you think the Lilywhites can upset Gate? Have your say below.