To everyone who knew him around the world, Rick McBride was a legend.
Ace photographer, great graphic artist, friend of film stars and racing drivers, imaginative writer and a lover of sport, beautiful women and fast cars. A true international, he lived in Canada, America, Italy and, finally, in Britain, at Bishopsbourne near Canterbury.
Only a short while after being diagnosed with an untreatable brain tumour he died on Thursday.
Rick was born in Detroit, but was brought up by his grandmother in Toronto, Canada, before moving to California.
He fought with the US Army in Korea and then became an art director working in advertising and the media.
By the 1960s he had his own advertising agency in Los Angeles, where his principal clients were Aston Martin, Jaguar, Ford and Ferrari.
He organised some of the first motor shows in America and the first ever in Mexico City.
He drove only the finest cars in the world; there was only one other open-top Jag like his in Hollywood, owned by Lena Horne.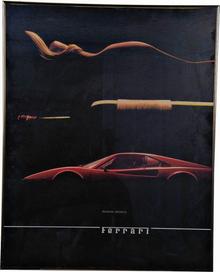 He numbered many film stars, singers and bandleaders among his friends.
It was Ferrari which was to change his life.
He designed for them a poster, copies of which sell at high prices around the world.
It featured a nude, a bottle of fine wine and a Ferrari 308GTB and carried the legend Decisions, Decisions.
As a result of constant visits to Ferrari and their famous designer Pinin Farina, he became their official photographer, going to all the famous race tracks and becoming friends with such Ferrari drivers as the Rodriguez brothers and many others.
And it was through Ferrari that he met his future wife Valerie in 1964 and married in 1968.
He was working on a photoshoot for a brochure for which they needed a model.
Valerie was that rare thing, an English blonde who had become a successful model in Italy, so successful that she was known as La Regina di Torino, the Queen of Turin. He fell in love with her, wooed her and wed her in Los Angeles in 1968.
A keen sportsman, he was not content merely to watch it from the comfort of his armchair, he was an excellent cross-country skier, competitive speed skater on frozen lakes and rivers and twice ran the bulls at Pamplona, so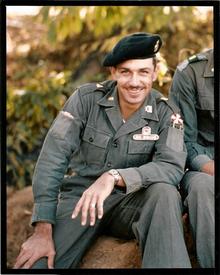 vividly described by his fellow countryman Ernest Hemingway.
In 1986 he "retired", if taking on a huge 15th century Wealden hall house, Elmstone Farm, Grafty Green, and helping Valerie create a seven-acre garden and orchards, writing the Good Coffee Guide, the definitive statement on where to find the best coffee in Europe, and working on and subsequently owning the Tenterden-based magazine Period Home, can be called retirement.
Six years ago, he and Valerie decided to downsize and moved to a graceful Georgian house in Bishopsbourne, where again Valerie used her gardening skills to great effect and Rick started out on his last great project, a novel based on many elements of his own life and which he finished shortly before his death.
Artist, designer, photographer, sportsman, master cocktail mixer, film buff, opera and theatre lover. Rick McBride was all of these … and more.
His funeral will be held at Barham Crematorium on Thursday (January 31) at 3.20pm.