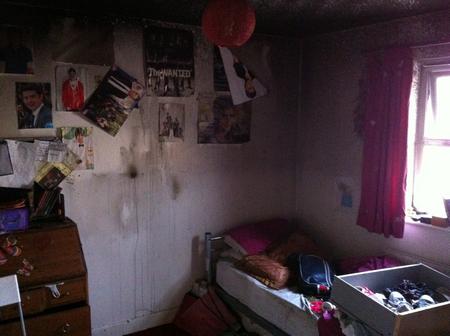 A teenage girl sent her bedroom up in flames last night after leaving a scented candle burning on a chest of drawers.
The accidental blaze is believed to have been sparked when the candle fell into a drawer filled with clothes.
Lauren Howard, 14, had left the candle – given to her as a present - burning in her room in Larch Close, Hersden.
The blaze set off the smoke alarm and fire crews raced to the house shortly before 7pm.
Lauren, her mum Rachael Fagg, stepdad John and nine-year-old brother Joshua all managed to get out of the house before firefighters arrived.
Crews managed to contain the flames within Lauren's bedroom, which suffered severe smoke damage.
Rachael, 42, said: "She came down screaming 'mum, mum, my bedroom is on fire!'.
"Luckily everyone was fine and we got out quickly. The fire crews were very quick and our neighbours were wonderful, keeping us going with hot chocolates until we got back in.
"I suppose if we had left it could have been much worse. We are now getting in touch with our insurers.
"Lauren is devastated about what happened. It was an accident and she won't be doing it again."
In a statement, Kent Fire and Rescue Service said: "We remind everyone to always be careful when using candles, to never use them near flammable materials or to leave them unattended.
"This is also a timely reminder about how essential a working smoke alarm is."