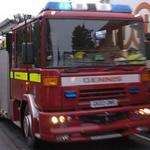 Three crews of firefighters have been battling a house blaze in Canterbury this afternoon.
The fire broke out on the ground floor of a property in London Road shortly before 4pm and police and an ambulance were also called to the scene.
All occupants are said to have got out of the property and there are no reports of injuries.
Firefighters used a hose reel jet to tackle the flames and a ventilation fan to clear the building of smoke. Kent Fire and Rescue Service said the cause was being investigated.