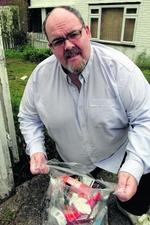 The city council insists it has not changed the quality of its recycling sacks despite complaints from householders that they are "flimsy".
Several residents took to Twitter to vent their frustration at the bags which they also claim are smaller.
Malissa Taylor wrote: "The bags are absolutely appalling. I can hardly put anything in them as they break so easily."
Mark Roberts said: "I'm using two bags just to get the recycling out for collection in one piece. Old ones were much better."
Nicole Reilly added: "Have to use two bags every time as fed up with bottoms giving way. Much smaller too."
City councillor Alex Perkins said: "My wife, Jo noticed the latest batch of sacks were flimsy."
City council spokesman Rob Davies admitted there was a problem when the specification when reduced two years ago but says the council reverted back to the higher quality bags.
He added: "We haven't had complaints about the general quality of the clear sacks for many months. A tiny minority of sacks have had a problem with the bottom coming undone and we have been replacing them when people have contacted us. Anyone who has had this issue should call Serco on 0800 031 9091.
"The clear sacks will be phased out from next April when we move to our new waste collection system."