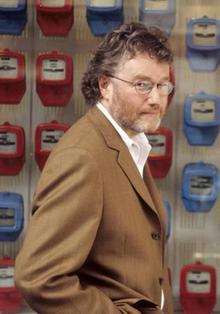 Former Faversham author Iain Banks has revealed he has just months to live.
The bestselling novelist (left) is well known for his first book, The Wasp Factory, which he wrote commuting to and from the town.
He announced he has gall bladder cancer, is 'unlikely' to survive longer than a year.
The 59-year-old lived in St John's Road and wrote his first book on the train between Faversham and London.
In a statement to fans on his website the author announced he was suffering from the late stages of gall bladder cancer.
He said he had gone to his GP in February after suffering from a sore back. After a CT scan it was revealed a cancer, which started in his gall bladder, had spread to his liver and pancreas.
He said: "The bottom line, now, I'm afraid, is that as a late stage gall bladder cancer patient, I'm expected to live for 'several months' and it's extremely unlikely I'll live beyond a year."
The author built up a huge following with books including The Wasp Factory, The Crow Road Complicity and the Culture series.
In 2008, he was named one of the 50 greatest British writers since 1945 in a list compiled by The Times.
But he said his latest novel, The Quarry, is to be his final work adding: "I've asked my partner Adele if she will do me the honour of becoming my widow.
"We intend to spend however much quality time I have left seeing friends and relations and visiting places that have meant a lot to us."