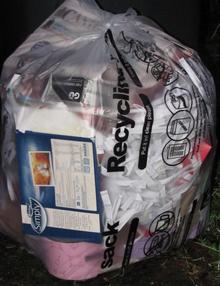 Canterbury City Council has performed a sensational U-turn following a wave of criticism over a recycling sacks shortage in the district.
It this week admitted a new cost-cutting service is not up to scratch and announced plans to deliver extra rolls to angry families.
The news is a huge victory for the Kentish Gazette - which campaigned for the change - and the people of Canterbury, Whitstable and Herne Bay.
The new system - to be decided on Monday - will see 19,000 families who have registered for extra sacks receiving three rolls every four months instead of two.
Others yet to register will also be eligible for more bags.
But those using up their quota will still have to buy sacks from council vending machines and supermarkets.
The proposed plans were announced on Wednesday and will cost the council an extra £37,000 if introduced.
But that would appear small change in light of the uproar caused by the current system, which was brought in last June to save £100,000 a year.
The council cut the number of rolls per delivery from two to one and stopped dishing out free sacks at outlets across the district.
It said it was wasting cash on bags not used for recycling, claiming two-and-a-half million were going unreturned each year.
But eight months on and after hundreds of complaints, rubbish bosses have seen sense and considered another change.
Officers have recommended the city council executive approve the new system at a special meeting on Monday morning.
But they have opposed plans to return to the old, better-quality sacks, claiming it would cost an extra £50,000 a year. Giving away free sacks at council offices has also been branded a "waste of public money".
Has the council gone far enough? Tell us what you think.
Leave a comment or email kentishgazette@thekmgroup.co.uk