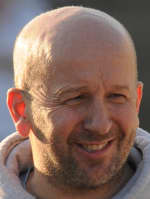 by Alex Hoad
Herne Bay boss Simon Halsey has heaped the pressure on Faversham ahead of their Ryman League, Division 1 South derby on Saturday.
Despite the sides being separated by just oe place and one point ahead of the 3pm kick-off at Winch's Field, Halsey insisted: "They are the favourites."
Halsey (pictured) said: "They are the established Ryman League team, they have been there for three years, we are the newbies in our first year. It's their game to win."
He played down the significance of the meeting with a side which boasts former Bay men Luke Harvey, Toby Ashmore, Dan Lawrence, Darren Marsden and Jamie Maxted.
He said: "It doesn't matter to me whether we are playing Faversham, Chipstead, Merstham or anyone – it's just another big game against a side around us in the table.We are fully-fit and raring to go."