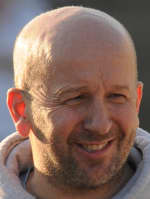 by Alex Hoad
Herne Bay boss Simon Halsey says the series of postponements could benefit his side later in the season.
Bay's game at Burgess Hill last weekend and Wednesday night's home game against Eastbourne Town fell foul of the weather and the visit of basement boys Three Bridges to Winch's Field on Saturday already looks in jeopardy.
The result will be that Bay are left to fulfill their backlog of fixtures with midweek games but, after going eight games without a win, boss Halsey hopes that prospect will help his side start a run to launch them back up the Ryman League, Division 1 South table.
Halsey said: "We're going to be playing Saturday-Tuesday-Saturday for some time and if we can get things right, then that will present us with the opportunity to get some impetus and momentum going.
"Of course, the other side to that is that it will stretch the squad to the limit, so we'll need to try and stay free of injuries and suspensions."
He added: "I have never known a season like this. It's been frustrating.
"Our first pre-season game was called off due to a waterlogged pitch for the first time ever and it's set the tone for the rest of the season."
Three points from eight games have seen Bay slump to fifth bottom of the table and Halsey admitted: "We've not won for eight games and that is not good enough for what we are trying to do here."
He, however, said the run had not affected the mood in his tight-knit camp, saying: "The morale has been absolutely fine, nobody likes being in a rut but there have been no heads dropping or bottom lips wobbling.
"We're not going to beat ourselves up."
Do you think Bay can build some positive momentum and climb the table before the end of the season? Have your say below.