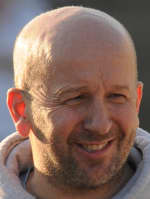 by Alex Hoad
Herne Bay boss Simon Halsey has backed his mis-firing side to rediscover the goal trail and end the worst run of form in his time in charge of the club.
Halsey (pictured) replaced Barry Morgan in the Winch's Field hot seat in November 2009 and steered Bay to runners-up spot in his first campaign and missed out on the Kent League crown to Hythe on goal difference in 2010/11 before storming to the title and promotion themselves last season.
Halsey's reign has been almost entirely plain sailing but Tuesday's 1-0 defeat against Leatherhead was their third straight in Ryman League, Division 1 South – a run which has seen them score just once – and fifth in six games overall.
The Bay boss said: "I've never lost two in a row here, let alone three.
"We have had three tough away games but I wanted to end the run on Tuesday but it wasn't to be. We played all right but we didn't create much.
"Our problem is in the final third, really. We are doing OK defensively and in midfield, our build-up play is OK and we are getting the crosses in but we are not doing enough to score goals.
"We need to sharpen up in and around the box.
"We'll do some extra shooting practice in training and work hard on the final third in training and try to get back to what we're good at."
He added: "It's not the players, they have done it plenty of times before, we just need to get them firing.
"Once Byron Walker gets a goal, I'm sure he will be flying again and the same for the other lads."
Bay host sixth-bottom Merstham on Saturday.
Do you think Bay can get back on track this weekend? Have your say below.