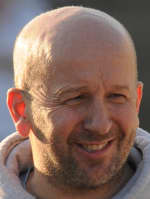 by Alex Hoad
Herne Bay boss Simon Halsey has challenged his players to launch a new unbeaten run after their bright start to the season came to an abrupt halt.
Bay went down 4-1 at home to Worthing on Saturday – following eight games without defeat in all competitions – but Halsey (pictured) refused to get too downhearted after a three-game winning streak was ended.
He said: "It was a bad day at the office, but we won't dwell on it. It's not the end of the world. We'll dust ourselves off, roll our sleeves up and get on with it.
"The lads have done well to put together an eight-match unbeaten run so soon after getting promoted and the challenge now is to start another one.
"November was always going to be a tough month but we'll talk to them about a new target.
"We're pleased that even though we've not picked up any points for a few weeks we're still right in there and haven't dropped down the table too much."
Free-falling Folkestone Invicta are the visitors in Ryman League, Division 1 South at 1pm on Saturday.
Bay's 17-goal top-scorer from the 2010/11 season, Stuart King, is set to return to Winch's Field for the second time this season, having netted for Invicta in their 3-1 FA Cup preliminary round victory in August.
Halsey said: "If you look at their results, Kingy is on the scoresheet most Saturdays.
"He's a quality player and that's why we play the game, to test yourself against the best.
"I'm sure he'd like to come back and get another goal or two like he did in the FA Cup game earlier in the season."
Do you think Bay can bounce back to winning ways against Folkestone? Have your say below.