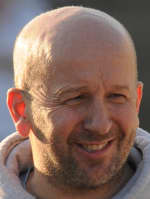 by Kevin Redsull
Herne Bay manager Simon Halsey is hoping some new faces will spark his side back into life.
Halsey was disappointed with his team's lack of creativity after last Saturday's 2-0 FA Trophy home defeat by Chatham, a result which left Bay with a record of one goal, one draw and two defeats in their last three matches.
But Halsey insisted: "It's not all gloom and doom. We've got some new players coming in and hopefully they will make the others pull their socks up a bit and put some fresh impetus into their performances."
Dan Wisker, Bay's new signing from Whitstable, was due to make his debut in Wednesday's surprise Kent Senior Cup win over Dover Athletic.
Halsey was annoyed that the midfielder had been unable to play against Chatham on Saturday because of what the Bay manager considered to be his former club's poor handling of the transfer.
Halsey was expecting a more straightforward process over the signing of Dover central defender Sean Raggett, who was due to move to Winch's Field on a month's loan after last night's cup tie.
Halsey is also optimistic that soldier Robert Storrie, who has been posted to Canterbury, will receive his international clearance in the next few days having previously played for Morton in Scotland.
Halsey added: "I am also in talks with one or two other players and the fact that players are interested in coming here shows we must be doing something right.
"And, if you had offered me the choice of beating Chatham in the Trophy or picking up three points against Walton & Hersham this Saturday, I would definitely have taken the latter.
"My priority is to get as many points as possible as quickly as possible to ensure we stay in this league next season."
Do you think Bay's new signings will lead to an upturn in form? Have your say below.