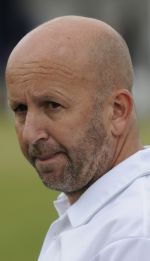 by Alex Hoad
Simon Halsey is delighted that his Herne Bay side return to the road in search of Ryman League, Division 1 South points on Saturday with a derby trip to Faversham.
Saturday's 4-0 defeat to struggling Walton Casuals at Winch's Field was Bay's fourth straight home league defeat and it's now been more than three months since they won in front of their own fans.
To make matters worse, Halsey's team have not scored a goal but conceded 11 in that spell.
Bay visit Salters Lane on Saturday and Halsey (pictured) said: "It is a Godsend that we are away from home, there's no hiding that.
"Their pitch is probably not the best after playing on Tuesday night but it's still going to be better than ours."
He added: "It's no coincidence that we played three games away from home, won two and drew one, then we go home again and lose.
"I'm not blaming the pitch for us losing, we're losing because we're making mistakes, but playing at home does have a massive psychological effect on us.
"The opposition get there at 2pm and worry about how they're going to play on it, we have it in our minds every day of the week and the moment we wake up on matchdays."