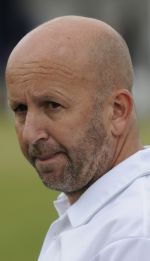 by Alex Hoad
Boss Simon Halsey is bullish about Herne Bay's prospects for the rest of this season after strengthening his squad.
Bay ended a run of four straight defeats in Ryman League Division 1 South with a draw at rock-bottom Walton Casuals on Saturday and though they lost 3-0 at home to Faversham on Wednesday night, Bay aim to return to the top half with a home win against struggling Eastbourne on Saturday ahead of the Boxing Day derby at Whitstable.
Halsey (pictured) hailed the impact of midfielder Sam Bewick, who arrived from Maidstone in time for Saturday's game, and also unveiled Gillingham youth striker Aaron Millbank on a month's loan.
Bay chairman Trevor Kennett said the signings "show our intent not to settle for a mid-table position, we want to be a successful club" and Halsey agreed.
He said: "We're not resting on our laurels and are not panicking but we needed to bolster-up a bit.
"We want to push on. We settled in well in this division but have had a dodgy spell lately.
"Every team has one but you don't become a bad team overnight and anyone who thinks it has happened to us is gravely mistaken."
Millbank could start against Eastbourne after his paperwork was not completed in time for Saturday but Jamie Turner is suspended.
Halsey has also put in a seven-day approach for an unnamed striker playing at a lower level.
Do you think Herne Bay can get back to winning ways this weekend? Have your say below.