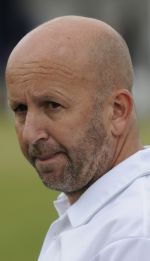 by Alex Hoad
Simon Halsey has set his team a points target from their tough run of fixtures against Kent rivals which he hopes will inspire them to a top 10 place.
After Wednesday night's 2-0 home defeat against play-off chasing Ramsgate, Bay boss Halsey has his sights on taking 10 points from the four games leading up to and including the derby with Whitstable on Easter Monday.
Despite having to visit Ramsgate, promotion-chasing Hythe at home next Wednesday (27th) and bottom-half rivals Corinthian Casuals at Winch's Field on Saturday, Halsey (pictured) wants to secure enough points to close on a top 10 finish in Ryman League, Division 1 South.
After Saturday's wash-out at Walton & Hersham, Bay sit 15th but have played fewer games than anyone else in the division.
Halsey said: "The way the season's gone, we have got four or five games in hand on some of the teams above and around us and 10th to 12th is still in our sights.
"It's going to be a good end to the season - 12 games in six weeks and we can't wait to get started. Bring it on.
"I've the set the boys the 10-point target from this next run. It won't be easy but I don't care how we get them, as long as we get at least 10."
Last time out, Bay beat promotion-chasing Crawley Down 4-3 at Winch's Field and Halsey admitted: "We are disappointed we didn't get to play on Saturday. After you get a good result and performance like that, you want to keep the momentum going but it wasn't to be."