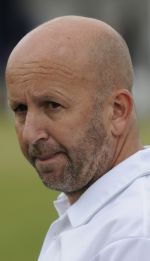 By Alex Hoad
Simon Halsey says Herne Bay facing rock-bottom Walton Casuals on Saturday could be a 'recipe for disaster' as his most difficult period in management continues.
Bay have lost four straight games in Ryman League, Division 1 South, scoring just once – unprecedented in Halsey's three years at the club – and lie 15th ahead of the visit to a Walton side who lost 7-0 at Faversham on Saturday.
Manager Halsey (pictured) admitted: "It's not a good time – it's just not happening for us at the moment."
"It's definitely the most difficult time since I have been here but hopefully the experience will make me a stronger manager.
"This is new territory for me and for the club. The last three years we have had pretty much everything going our way.
"It's a sticky patch but we have to roll our sleeves up and get through it."
The prospect of facing a Walton side who conceded three penalties and saw two goalkeepers sent-off at Faversham could be considered a good opportunity for Bay to end their dismal run but Halsey warned: "It could have the opposite effect.
"We are struggling at the moment. You could look at it as a bit of a recipe for disaster because that's the way things are going for us right now.
"A run like our one makes a massive difference to the table. We need to win."
"Halsey revealed he was looking to bring in an attacking midfielder or forward to 'inject a bit of life' up front before the weekend.