"Decrepit and probably dangerous".
That is verdict of council engineers on the Herne Bay pier platform after a structural survey found it to be in need of major repairs.
More than £200,000 may have to be spent renovating the platform after its wooden planks and underlying beams were revealed to be badly rotten.
Councillors have been given four options to decide on for the repair work, with the most advanced option of replacing all beams and decking anticipated to cost £220,000.
The news came despite £56,000 having already been spent by the council following the pavilion's demolition, including on laying a tarmac platform, installing electrical supply boxes, new gates and drinking water supplies.
The report by the council's engineering guru Ted Edwards said: "Both the beams supporting the deck and the decking planks themselves are in poor condition and in some places badly rotted.
"The situation is such that even trying to replace damaged deck planks has become impossible at some locations as there is little left of the beams to screw them down to. Part of the deck had reached the end of its life."
Councillors were asked to vote on the four options for renovations today, which range from closing off the north end to renewing all beams and decking at an estimated cost of £220,000 over 31 weeks.
Short-term plans for the pier include a possible "smuggler-themed" mini golf course.
---
---
A planning application has been made by David Cain of Cain's Amusements following an advert for concessions on the pier.
The 13-hole themed adventure golf course was inspired by a similar project in France and has been estimated to cost the company some £250,000.
Mr Cain said: "I love Herne Bay and I would really like to see the pier succeed. It's not a project that would clash with the long term rebuild - if they raise the money I can move or we can work something out."
The dad-of-three, who has had a business in the town for more than 30 years, said he was happy to invest the money for an attraction everybody could use.
He said: "The council were advertising for concessions and we thought it might just work - if there is a better submission then I'm sure it is being considered, but we think this could be a really great use for the platform and be an attraction year round.
"It would work well with the Pier Trust's plans for a beach hut retail village along the arm and together hopefully the two could generate visitors and some money.
"There is a similar place in France where I take my boys and it is really popular. We're not just talking a little walk-and-put; there will be a real mini course; if I get permission I think it would work really well out on the platform."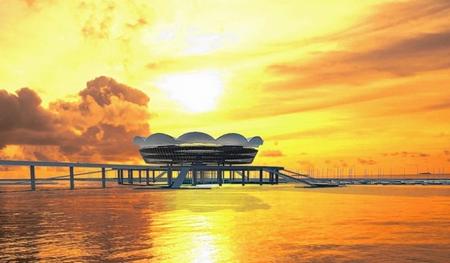 The most dramatic of proposals announced at the Pier Trust's AGM last month was for a striking £70 million pier with a marina (pictured above).
The plans were unveiled by the Pier Rebuild Group, led by trustee Andy Newell, former treasurer Jason Hollingsworth and former chairman Graham Cooper.
The futuristic plans feature a pier with a non-tidal marina including sport and leisure community facilities - with the renovated pier head as a cafe at its centre.
For more information, follow the link above.