Hundreds of people lined the city's streets on Sunday to remember those who lost their lives fighting for their country.
The overwhelming support shown was described as "hugely gratifying" by the president of Canterbury's Royal British Legion branch Gerry Ferrett.
He was speaking after seven-deep crowds packed into the Buttermarket for the procession and wreath laying ceremony.
Led by the marching band of the 3rd Battalion of the Princess of Wales's Royal Regiment, old soldiers were joined by serving members of the armed forces, cadets and other service organisations.
They processed down Burgate and gathered around the memorial, where the standard bearers lined up for the solemn ceremony and more than 20 wreaths were laid.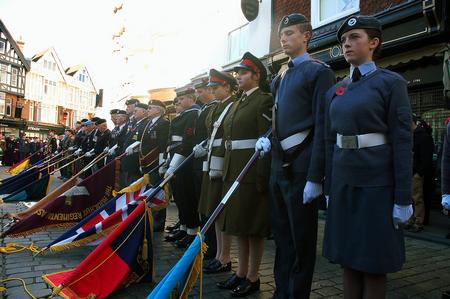 It was followed by a service of remembrance in the Cathedral, led by the Dean, where the Archdeacon to the Army gave an address.
He spoke about the men who had lost their lives on the other side of the world in conflicts like the Battle of Kohima and the families back home who did not hear of the loss until much later.
He also talked about the act of remembrance and how it was important to people in different ways.
Afterwards the parade marched down the High Street and past the East Kent Yeomanry memorial outside Nasons, where the High Sheriff Michael Bax and the deputy Lord Lieutenant of Kent Tricia Shephard were among the dignitaries receiving the salute.
The city centre also fell silent at 11am around the Field of Remembrance in Longmarket, where a short service was held by John Todd of the Canterbury branch of the Legion.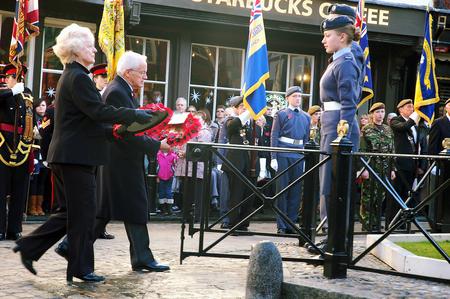 Afterwards Mr Ferrett said: "It was hugely gratifying to see so many people out supporting the parade. I think the crowds in the Buttermarket must have been six or seven deep.
"I thought it was superb that there was such rapturous applause for the parade at the march past in the High Street and that people were giving so generously to the Poppy Appeal."
Among those in the parade was 88-year-old Margaret Andrews, from Ash, who was proudly wearing her late husband's service medals.
She said: "I lost Percy, who served with the Oxfordshire and Buckinghamshire Light Infantry Regiment, in 2009. But I had promised him I would carry on wearing his medals in the parade for as long as I'm able."