kentishgazette@thekmgroup.co.uk
Horrific details of failed attempts to dig out a worker buried alive by mud in a collapsed trench have been revealed at his inquest.
The jury heard variations of accounts of events leading to the death of Canterbury groundsman Callum Osborne, 24, at a site in Bridgefield Road, Swalecliffe.
Emotions ran high as his family, including partner Colette, father Martin and mother Karen, listened to evidence and questioned witnesses.
Colette, formerly Scott, but now known as Osborne, had given birth to the couple's daughter a month after her boyfriend's death.
The trench in which he died ran along a track connecting utility pipes from two new bungalows to the mains.
Wayne Cooper, of Cooper Services Ltd told the inquest he had met Mr Osborne, of City Wall Avenue, for the first time on April 7.
Mr Cooper, of Minster, near Ramsgate, had been driving an excavator at the time of the incident. He said looking from Bridgefield Road, Mr Osborne had been on the right-hand side of the bank.
Mr Cooper had not known exactly what Mr Osborne had been doing because he was going back towards Bridgefield Road to pick up some shingle.
The last time he had noticed, Mr Osborne was "just standing there", waiting for Mr Cooper to return with the shingle for backfilling.
They had previously been using a piece of wood laid across the trench, to lower pipes into it. Some pipes had been laid but towards the end the pipes were out of the ground.
He had not seen Mr Osborne in the trench at all.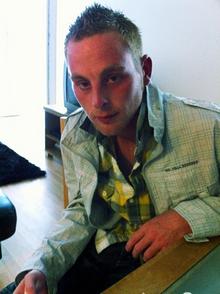 He said a laser level had been used to establish the trench gradient and Mr Osborne had been checking it as they worked their way down, using a staff and receiver, picking up a signal from a laser on a tripod.
He had been putting the staff in the trench to do this by holding his arm out and touching the bottom.
Mr Osborne had not been standing on the soil heap to do this and Mr Cooper had not seen the incident. He became aware of it when he heard Mr Osborne screaming.
First, he saw that the trench had collapsed "like a landslide". He had immediately switched off the digger.
Mr Cooper said: "Callum was there, I could just see his head, and then I just panicked, screaming for help and started digging, just to try and save him.
"I tried my hardest and screamed and tried to get Callum out. I started to dig with my hands."
He said he had also used a spade.
"I was using just anything to try and get him out."
The first person to arrive was Trevor Henderson as Mr Cooper was trying to dig out Mr Osborne.
Mr Cooper had stayed in the trench "until the ambulance and fire brigade turned up". He had heard the sirens and gone outside to find them.
The emergency services had been called by bungalow owner Jimmy Coster.
"Me and Trevor were trying to dig Callum out. He turned up and I said call the services," he said.
"i tried my hardest and screamed and tried to get callum out. i started to dig with my hands" – wayne cooper, of cooper services
He had not been aware of soil falling on top of Callum after first seeing him. When the emergency services arrived, he said he had been "absolutely exhausted and could not physically dig any more".
Coroner Rebecca Cobb said a photograph showed the digger in the position it had been left and asked why it was apparently at an angle.
Mr Cooper said he had not tried to use the machine in efforts to get Mr Osborne out.
There had been "a little bit of a bank along the right hand side of the access way from the road. It had been "patted down" by the machine. He said the trench had been about 1.2m deep in the part he had been digging.
Questioned by George Payne, for the Health and Safety Executive, Mr Cooper agreed he had spoken to his health and safety consultant after the emergency services arrived, and said he had tried to get Mr Osborne out but didn't know what to do next.
Referring to evidence given earlier by a policeman, the barrister asked if Mr Cooper had told the officer: "I was driving the digger backwards. Callum was falling down, I didn't see what happened, but I think he slipped."
Mr Payne asked: "Did you say the only reason the digger is there is because we tried to dig him out before everyone arrived?"
Mr Cooper did not comment on this and the coroner advised he was not obliged to answer.
The inquest was adjourned until Friday, December 21, when a verdict is due to be returned.