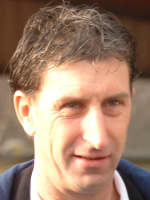 by Alex Hoad
Interim Whitstable Town boss Richard Langley admitted the Town players were despondent after the sacking of Justin Luchford at training on Tuesday.
Luchford's former No.2 said: "I was taking training when the chairman came over to talk to Justin. No one was aware of what was going on. Justin came over at about 8.40pm and told us 'that's it, it's over.'
"He wished us luck and said goodbye and that was that."
Langley (pictured) revealed: "It's difficult. The players were despondent, there was a lot of unrest. You have to remember that more than 80% of them have been brought in by Justin in the past year. They were not happy. They are frustrated."
Langley added: "It's early days and it's not been brilliant but it seems we've gone from a promising season to the brink of disaster in the space of about four weeks."
Langley and Oystermen player Nicky Southall will take charge of the team during their three games in seven days stretch which begins with Saturday's visit of Chipstead.
Langley added: "The sooner Saturday comes and the players can come together and channel their disappointment into getting a result for Justin, the better."
Do you think the Whitstable players can bounce back with a victory against Chipstead? Have your say below.