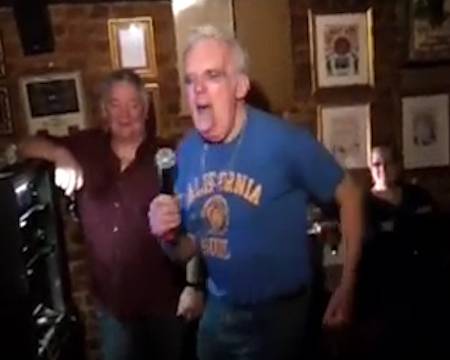 by Lauren Fruen
When karaoke king Michael Devine stepped up to sing the Prodigy's Firestarter at a pub, he wanted to give an added spark to his performance.
But the 71-year-old could not have imagined his fiery performance would result in a real blaze of glory - as the pub's kitchen went up in the flames the very next day.
Irish Mick, as he is known to regulars in The Three Horseshoes in Hernhill near Faversham, was still celebrating being crowned the winner of the annual karaoke competition when his rendition took on a very different meaning indeed.
"i've told him that he needs to sing money money money next year…" – landlady charlotte feviyear
Landlady Charlotte Feviyear said: "We couldn't believe it, what are the odds someone performing that song and a fire the next day? I've told him that he needs to sing Money Money Money next year!
"The pub was packed and Irish Mick is quite a character. He won last year too after singing the Sex Pistols. Everyone had a great night and he was crowned the winner after singing firestarter. He had even dressed up for the performance."
But as Charlotte prepared to cook Sunday lunch the next day she ended up dealing with a very different kind of fire starter.
She added: "We were planning to start serving food on Tuesday so we were doing a practice run Sunday lunchtime.
"I went to open the oven and flames shot out. There were two fire engines and the oven is ruined. Now we'll have to wait until the new year before we can think about serving food.
"Everyone is talking about it. I cannot believe it all happened over one weekend."