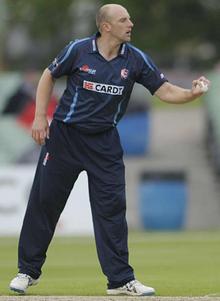 by Alex Hoad
James Tredwell admitted he was disappointed to be leaving Kent's pre-season preparations behind before jetting off on England duty.
The 31-year-old (pictured) was called-up to New Zealand as cover for the injured Graeme Swann for the final two Tests.
He is set to fly back on March 28 and will miss the opening two-day practice game against Hampshire, which starts that day but said he could be involved in the warm-up clash with Surrey the following Tuesday.
The spinner, who has replaced Rob Key as skipper, said: "I was around the Kent boys last week and it was good to get my teeth into it before getting the call and getting dragged away.
"I'm slightly disappointed as I'd want to be involved with Kent but it's not something you can knock back.
"I'll stay in constant contact with goings on here. Jimmy (Adams) and the senior players have it all in hand, there is a schedule in place. Fitness is an important part of it.
"Going into pre-season, I wanted to sit down as a group and have a chat but I won't be able to do that now. There's still a week after I am back for us to be able to do it, though."
Tredwell said that, despite it being early in pre-season, he had noticed a different feeling around the club as they prepare for their first summer under a new skipper in seven years.
He said: "This is a new time for the club. It's early days but even though Rob's still an important part of the group, there's a slightly different feeling.
"The way we do things is not vastly different yet. It's going to be a challenge but we'll get used to it."
He also said Key would be important in filling the void in his absence. He added: "We have got a good group of senior players.
"Those senior heads are going to be important if I am not available.
"I'm sure at some point we'll have an official vice-captain but it's not overly necessary at the moment. There are two or three guys who could easily do the job."